Playing the traditional Mongolian game of goat ankle bones last night, I came across a situation I hadn't encountered before: you roll two horses, so you pick each one up one at a time with your left hand. Should everyone ante up with two bones or just one?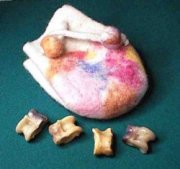 If you are not familiar with this game, you ought to go to Mongolia and get yourself a set. The bones, I found out today, are called 'Shagai' and are the cuboid bones from the ankles of sheep (at least according to
Wikipedia
). My friends David, Marc, and Curtis went to Mongolia two years ago and claimed they were goat bones. It's possible they are
interchangeable
. That would streamline the goat-manufacturing process.
Wikipedia
didn't have the game rules that I was taught, although there were some great ideas for other games you might play with these osteological wonders.
The Silver Horde
's rules were closer, but omitted the distinctive role that horses play in the game.
I'm beginning to wonder how much wool my three жуулчин friends had pulled over their eyes.